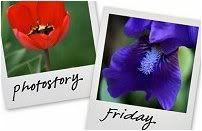 Hosted by Cecily and MamaGeek
Our resident Jr. Gardener, Annelise, eagerly checked on the status of our little garden the other day. Here is a play by play. (You might want to sit down and brace yourself for the ensuing excitement.)
Rats! These aren't quite ready. Let's keep looking...
These cherry tomatoes are though. Pick, pick...
Hmmm...since they smell delicious,
I bet they taste delicious too!
Yep! To-MAY-to, To-MAH-to, I love them all.
This is our first year to have a little garden. Who knew it would be so delightful to go out in our very own yard to pick cucumbers, squash, green beans, and tomatoes (the salmonella free variety, of course)? Well, it is. And tasty.