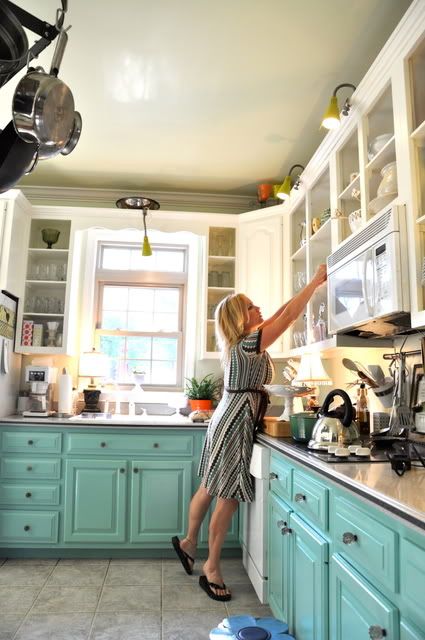 That was how I discovered
Edie
.
I was immediately intrigued. I mean someone bold (and a little bit funky too) enough to throw convention to the wind and paint her kitchen cabinets turquoise was my kind of girl.
Her blog quickly became one of my favorites and one I always savor reading. There may even be the occasional drool. Reading about her faith, her fierce love for her family, her honest struggles with homeschooling, her decorating escapades, her craft projects and OH MY WORD don't forget her cooking has been a delightful treat these last two years. Though I have never met her in person, Edie has encouraged me to embrace MAC make-up, especially black eyeliner, even though I'm on the flip side of forty; opened my ears to the sheer awesomeness of Brandi Carlile and The Avett Brothers; inspired me to read the entire Harry Potter series back to back; and created a desire in me to read more C. S. Lewis. Edie's gift with words consistently touches my heart, sometimes with a warm fuzzy feeling and others in a prickly pinch-y way (which is not a bad thing at all, you know). God has blessed her with many gifts and she does not shy away from using them to His glory.
My heart has been so full for Edie and her family these last several days, hurting for her while at the same time confident she will use this period of darkness to shine Christ's light. Brightly.
Happy (late) birthday Edie!!
"After Job had prayed for his friends, the LORD made him prosperous again and gave him twice as much as he had before. "