This is my first time to take part in Melissa's (of
A Familiar Path
) linky party of confessions and for some reason I waited until I am trapped in a car riding along miles and miles of Florida highway and have been reduced to blogging on my phone as a sanity diversion as we make our pilgrimage home from Road Trip 2011.
Especially since I was heard earlier to mutter, "...or I'll throw your Airheads out the window." (even though I probably wouldn't because that would be littering).
We said goodbye to The Mouse this morning and I'm only slightly sad. The crowds and the frantic pace of getting along to the next attraction wears on my soul.
Destin was absolute perfection though. I want to go to there. Again. Now.
Did you know I read three books over the course of our trip? I did, I did. What? You want to know what I read? Okay. While We Are Far Apart by Lynn Austin (WWII Christian fiction that was really good); The Friday Night Knitting Club by Kate Jacobs (cozy and fun chick-lit but be warned of some language and a tearjerker ending that was unexpected); and Les Miserables by Victor Hugo. And before you ooh and ah and become super impressed by my reading fortitude I better confess it was the abridged paperback version. But still. Now I've started Claude & Camille: A Novel of Monet by, wait a sec, Stephanie Cowell. We've also been listening to Harry Potter on audio CDs while driving. We're on #2 now and it's been a fabulous way to pass the time for all three of us.
I'm on my second to-go coffee of the day. This time it's Dunkin Donuts and came with a chocolate donut, because it was necessary.
Our vacay has completely ruined my diet. Some of the food has been yummy, some icky (lots of fast food) and green vegetables and fruit have been, um...scarce.
I took my workout videos (TurboFire) and resistance bands with me and they stayed in the car. For over a week. (Hangs head in shame.)
We're so bummed about the shuttle launch being scrubbed yesterday. Oh the humanity.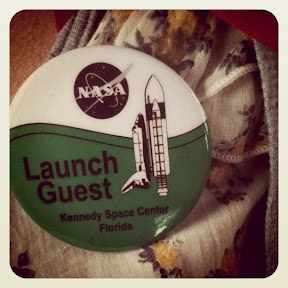 Especially since we were already at Kennedy Space Center almost to the viewing spot. We toyed with the idea of staying to see the next attempt Monday afternoon but pulled up our big girl panties (well, big boy briefs for Scott I guess) and decided we needed to head on home since we've already been gone a week. We'll have to watch it on TV.
Speaking of TV, I feel completely out of touch with DWTS, American Idol, The Judds, etc. And I forgot to set the DVR for yesterday's Royal Wedding extravaganza before we left. I put in an emergency call to my dad asking him to set their DVR so Annelise and I can watch it next week sometime. I remember watching Charles & Diana's wedding at my grandparents' house (I played hooky from school, phantom cramps I think) and being glued to their 18" screen for hours.
It's true, I'm old.
Praise and glory for a rest area appearing out of the trees right when you need it. And they had vending machines.
I guess that's enough confessing for now. We still have miles and miles to go (who knew Florida was so big?) and I've been neglecting my co-pilot's duties (sorry Scott).
Over and out.