This WIWW post is brought is brought to you by lameness with a side of schlumptastic.
I say that because I only have two outfits documented this week. Most days I stayed schlumpy in jeans and a t-shirt (sweet), my workout clothes (working out was actually optional, pity) or if I did gather myself I forgot to take a photo.
You know how you throw something together and you think, m'mkay this is looking mighty cute and then you catch a glimpse of yourself in a window or full mirror or your husband kindly snaps a photo of you on your porch?
Suddenly you're mortified you left the house and pranced around in public.
Exhibit A: My outfit for church on Sunday. We had a cool-ish spell so my first thought was, "Break out some boots!"
Except I look like I just hopped off my horse and onto our porch.
When did my boots become so cowboy-ish?
Yee. And haw.
grey dress: Down East Basics
pink ruffle cardi: Down East Basics
Frye Carson boots in fawn: Zappos
silver choker with cross: James Avery
I love wearing this necklace because it belonged to my mother. She also had a big sand dollar pendant, very 70s, which I switch the cross out for sometimes.
And another view of my boots.
Maybe I should've worn my taller boots?
See, I want to be the type of person that can wear cowboy/western boots with dresses and skirts with confidence and flair(a la Tami Taylor on Friday Night Lights) and I'm just not there yet. Sigh.
Monday evening: Trick or treating & halloween carnival
grey & black t-shirt: Stein Mart
grey layering tank: Old Navy
black drapey vest: Forever 21
jeans: Lucky
initial necklace: The Vintage Pearl
silver chain necklace: Kohl's
black blingy flip-flops: Yellow Box
And there you have it, a short and sweet WIWW.
Be sure to visit The Pleated Poppy and Real Momma, Real Style for more fashion inspiration!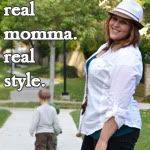 What do you think of boots and skirts (not too sort of a skirt, mind you) on say, a 42 year old? Hip & Fun? Appropriate? Edgy? Ridiculous? Do tell.