hello friends!
i only have one outfit to share this week since everything else has been either schlumptastic (read: dullsville) or I forgot to take a photo (that's right thanksgiving, i'm talking to you).
without further ado, i present brown & black with a pop of color:
black dress: old navy
brown cardigan & belt: target
boots: frye jane from zappos (an early birthday present to myself which i fell madly in love with as soon as they arrived at my door, they even smell good)
turquoise necklace & bracelet: sam moon
this was my first time to wear a belted cardi and i must confess feeling a bit, um, odd at first. i was never sure if the belt should go right under my shelf or at my waist or where exactly. then i worried i looked too thick. but in the end, i liked it. and even felt a tad bit sassy. i really liked pairing brown and black together too (with a pop of color) and will definitely mix them together again. they're kind of like peanut butter and chocolate or popcorn and m&ms of the fashion world. or maybe not and i'm just hungry.
i'm linking up again with lindsey
and nina of momma go round for real momma, real style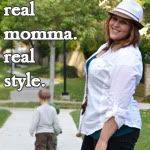 be sure to pop over there for more fashion fun and inspiration.
happy wednesday, y'all!