A few bits of miscellany to share...
01.) We had a special Mugs and Muffins (a monthly breakfast and devotional for ladies) Saturday that focused on the Proverbs 31 woman, who if we're being honest, most women have a love-hate relationship with because, hello, she's intimidating to say the least.
We enjoyed breakfast together, heard four encouraging and practical lessons based on the Proverbs 31 woman and had a yummy lunch of a variety of salads and desserts. And yes, that's me up at the podium too--eek!--I made announcements and said a prayer--again, eek!
For favors we used basic photo albums from Dollar Tree and made a cute (?) insert cover (they were all different colors and patterns) and made scripture books.
Each of the ladies that taught a lesson gave out cards with a scripture on them related to her lesson. The idea is to add to them over time with verses on index cards that we hope to memorize (or at least try to remember) and eventually imprint on our hearts and in our brains.
02.) Annelise has discovered The Brady Bunch, which I can not adequately describe how happy this makes me since it was a show I was glued to when I was her age and it's something that we can watch together. She stayed home with a fever one day last week and watched Little House on the Prairie and then a few Brady Bunch episodes and I felt like I was reliving my childhood a little.
She thinks Peter is cute and Marcia is cool, which is exactly how I remember feeling about them.
03.) So, about Mother's Day...
I always have mixed feelings on MD because I miss my mom and grandmother and I think about friends who are missing their loved ones too or those that might be wanting to be a mother and aren't, at least not yet, and I think about children that are waiting for a mother...and so on and so forth.
But I also think about women who have filled in the (many) gaps in my life and have been mother figures or role models and I realize I am very blessed.
Honestly, this MD I didn't dwell too long on those thoughts because, look, I was too busy eating.
We went to BJ's after church for lunch (we hadn't been there in over a year--what the what?) and one small wedge salad, shrimp tacos and a pizookie split three ways I was one stuffed mother.
Scott and Annelise showered me with attention, cards, a plant in a painted pot (school project) new Kenrda Scott earrings (I wore the coral yesterday, love!) and let me shop at ULTA unhurried and unaccompanied after lunch.
Yes, I am spoiled rotten.
04.) A little mother-daughter footsie (you know, a foot selfie), just for kicks.
05.) Let's talk about my hair, shall we?
As in, I'm not sure what to do with it.
During my Ulta spree yesterday I picked up a box of brown color (L'Oreal Feria cool medium brown) to touch up my roots. Of course since this is only my second time doing this I'm totally taking a stab in the dark when it comes to choosing color. Along with touching up my roots masking my greys I hope it tones down the overall reddish tone.
Now, here's my dilemma:
Do I keep my
DIY ombre/dip-dye look
or spread the brown color all the way to my ends? Or do I keep the ombre and apply another toner and use purple shampoo on my ombre part to brighten it up and tone down the brassiness? Or do I suck it up and call my stylist and have her fix everything?
I don't know.
I wore my hair straight yesterday and it felt like the whole ombre part was this glaring hot mess of orange at the ends of my hair.
I like the ombre look better when my hair is curled (see below when I was irked and killing time waiting for Hobby Lobby to open, see related: they open at 9, not 8:30) and for some reason my hair doesn't look as red below, which is weird but probably a good thing.
If it was your weird ombre what would you do? Do tell.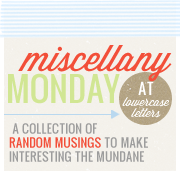 Happy Monday, y'all!